Ready for this?...

Your Dog Feeding Schedule... Raw or Processed Food Makes a Difference!


"But that's not what all the other websites say about their dog feeding schedule!"  Yep... you'll soon realize we're different than the rest of the pack! 

Sure... we'll cover dog feeding guidelines like how much, how often, dog feeding times and feeding your puppies, etc...

...based on breed, age, health and activity level of your furry friend.  
But...

All this is centered around what you feed your pooch... processed or raw dog food.  Likewise with proper food combining.

Mother Nature's been trying to show you this forever!
Our healthy, organic raw dog food...

... compared to processed commercial dog food I bought just for this picture...

Sure looks like chocolate ice cream!
Nimble Doggy eats all she wants whenever she wants because I feed her a raw meat dog food diet and other raw foods that are properly combined...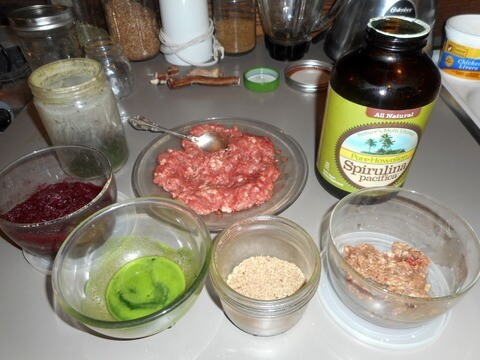 Proper dog food combining for streamlined digestion
... but I'll also include some "cooked" treats occasionally (Nimble insists it's ok!).

Do we have you hooked?  Good!  If not... please don't hit that "Back" button yet!  Instead... we hope you keep reading!
Our Dog Feeding Schedule is Based on Our Own Experiences


Rest assured...

I've fed both of my dogs raw dog food for many years (except for the raw dog foods they sniffed out in the wild!)...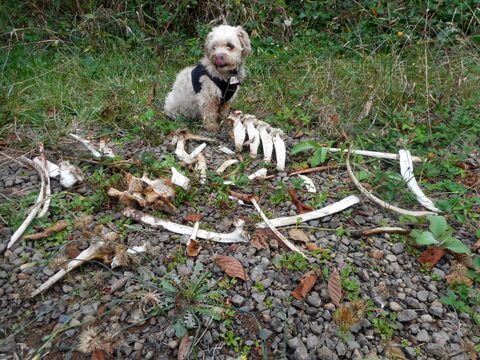 "Hey daddy... the coyotes beat me to it!"
Everything we write about happens daily in our doggie household (except when Nimble and I fast).

In addition... some information is gleaned from reliable sources which we read about from "been there and done that" authors.  It's impossible for us (maybe!) to adopt every breed of dog, puppy, old dogs, nursing dogs, etc.  Furthermore...

We've talked to many dog owners (and seen their dogs) who feed their dogs processed dog food (and raw as well).  We've also shared our healthy dog food with them!

All of the dog feeding schedule information below applies to healthy dogs unless noted otherwise.
As you browse along below, please refer to our section "Tips" (after we publish it... this will be the link).  This information supplements many of the sections below.  Furthermore...

Don't miss out on proper food combining!... it'll make a difference when feeding your pet dog.  Nimble and I are believers in this... can your dog digest her vittles without it rotting or fermenting in her stomach?  To keep this from happening... here's an easy-to-read food combing chart.  "Print it and pin it" on your 'frig door!

In addition... your dog needs to have a good supply of friendly bacteria in her digestive system.  Probiotics are a good source.  Has your dog taken antibiotics lately?  If so... this drug kills these wonderful organisms!

And finally (this is a real biggie)...  do you feed your dog a processed or raw dog diet?  It makes a huge difference and most of our info below revolves around this.  Please click this link (this will also become a link when we're finished publishing below).

"Remember... organic is best... arf!"  Nimble Doggy.  This plays a big role when it comes to when, how much and how often to feed your favorite pal!

Now that we've got that out of the way... let's get to the good stuff!


Dog Feeding Agenda for Active Dogs


We're talking about a good, hard romp... not a walk around the block!
Knowing when is very important... "Should I feed before or after exercising?"  Waiting awhile after feeding your dog before exercising is best.  However... this doesn't always work out well with our schedules.  Solution (you'll like this)...

Set the 'ole alarm 45 minutes earlier than when you get up for work (I've been doing this for years... pat on back!)...

… and work out with your doggy first thing in the morning.  This way... you won't need to worry about waiting after eating before working out!  And... you might not feel like exercising after work... especially if you have a physical job like mine.

"How much should I feed?"  I feed Nimble as much as she wants.  She can't get fat on the raw stuff!  Also remember... she's very active (we're not talking about a slow trot around the block). 

She'll gobble it down asap... she won't pick at it.  My other dog was the same way.  If your dog works out hard... they're "earning" their food.  Your dog's appetite will be off this planet... unlike an inactive dog! 

Healthy dog foods digest faster and easier when they're really hungry and "empty!"

Your dog will eat more processed dog chow than raw nutritious dog food since it lacks the nutrient density of the raw, homemade stuff.  As a result... more calories!  You'll read more about this below (this is Nimble's idea to make sure you read everything!).
How often should you feed your dog?  Gosh... if you think your dog might be hungry... put her feed bag on!  Feeding amount for dogs seems to be controversial... should you feed smaller meals more often or just one or two large meals? 

We think smaller meals are best.   Either way is probably fine...

The smaller meals throughout the day and one big meal late afternoon/evening works out best with our schedule.

Dogs are designed to inhale their food in the wild and their digestive systems are designed accordingly.  This way they can gulp it down before another predator steals their meal!  Don't be afraid to feed big meals less often... 

"My daddy puts my healthy dog food out and lets me chow.  If I don't eat right away or just 'pick at it'... he'll put it away.  I'm glad I always gobble it up... arf!"  Nimble Doggie.
Nimble likes to play "Tease" first... then she'll eat!
No matter how hungry she is... she's got'ta play this game!
Here's how it goes...
I act like I'm trying to steal her food... then she'll chase me down until I say "I'm sorry"...  then she'll eat.  This goes on and on until she's done... whew!
No kidding!
Hey pops... let's play tease before I chomp another meaty bone...

Grrr... let's get to it!
How often continued...

Worth repeating... even if your dog is very active... be careful when feeding your pet dog processed dog chow.  Consult with your vet if you're not sure.  A vet who has a nutritional background is best.

Nimble Doggy helped me find a really good vet... here's ours!  They'll show you how to make sure your dog doesn't get fat on a commercial dog food diet.  Your conventional vet can show you how to check your dog for too much fat.

Sometimes the dog food manufacturer will disclose this information.  However... you need to make the final decision.  Only you know your dog! 

For those of you who don't want to go the homemade route...

...we're working on a list of different types of "ready-to-go" dog foods.  It's a work in progress... keep checking back for more approvals as we keep adding to our best organic dog food list.  I would feed these to Nimble if I couldn't feed her my homemade raw dog food recipes... We'll try them out before giving our stamp of approval!

You'll also read some good background information about every type of dog food.  Each page is sort of an "extension" of the others.  These pages will help you decide or assure yourself....


Our health food store has a big selection of doggy food, chews and treats...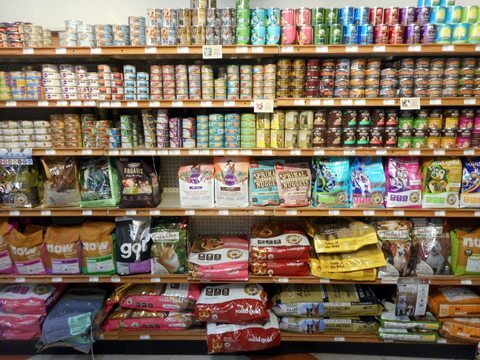 Such a selection... where do you start?
Just like how much... only you can determine how often to feed your dog.  You'll need to monitor her weight and adjust accordingly with processed dog food.  With us... frequency of meal times are pretty much the same every work day due to my work schedule.  My days off are different.  

I think amount and frequency are important.  Once again...

Perhaps more smaller meals throughout the day might be healthier than gorging on one huge meal.  I have no proof of this (Nimble won't tell me... ha!).

Wild dogs gorge... sometimes only once a day or even once in a few days.  But... this is due to lack of availability.  And as mentioned above... they're designed to "inhale" their food.
"My conventional vet thought I was too heavy.  My daddy had to convince the doctor that it was muscle... not fat!  Can you believe it?... arf!"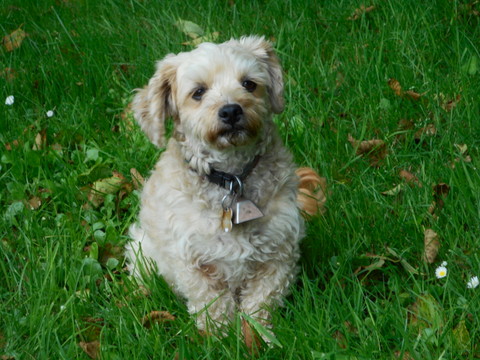 Do I look chubby? I hope not... arf!
Is Your Carnivore Inactive? Try this Dog Feeding Schedule...


We're talk'in about couch potatoes here... or the occasional "walk-around-the-block" dog.  Are you feeding your dog processed dog food?  If so... be careful.  Those pounds might add up!
When?  Feed you pal if she's looking at you with those big, cute eyes (while pushing her food bowl towards you!).  You won't need to worry about her up-chucking food when eating soon after after exercising... right? 

Have you ever noticed how fast your body seems to digest food after a hard workout compared to eating "just to be eating?  And so it is with dogs...
How much?  Even though your doggie isn't exercising much...  it's really hard to get fat when raw feeding dogs.  As we've mentioned before (I hate to sound like a broken record!), the more a food is processed, the harder it is to digest.  Likewise with improperly combined dog vittles...

This = weight gain.  Throw in a few additives and other junk... bingo!  The pounds (or ounces for little dogs) start to compound. 

How often?  Feeding your dog 2-3 times during the day (or more) is probably best.  Remember... her body will crave healthy dog food  after exercising.  Worth repeating... your dog (and us) digest food better when it's "earned."  Also...

Because smaller portions spread out over the day is healthier for your pal...

Nimble and I realize this isn't practical for all of us due to our differences in life-styles.  Just do the best you can and have fun with it!  A healthy lifestyle takes work... keep it as fun and simple as you can (Nimble is constantly reminding me of this).
We're Work'in Hard on this Page...
Nimble and I are swamped with concrete work right now.  However... we'll spend every waking moment working on this page... a little bit at a time. 
We use all of our own photos and those of our visitors.  And...

We like to use lots of 'em!  This takes more time but it's worth it.  They make reading fun and helps share our personal experiences as well as those of others. 

Sorry about any grammar and typo stuff... we always save cleaning 'em up for last!
Thanks... Scott & Nimble...
Arf!

Our website is a work in progress!  We'd love it (and so would your dog) if you returned regularly to check out all our new articles.  We can't wait to expand on the topics above!  Also, we'll include our highly recommended products for you and your dog to choose from... only those we have used or would use ourselves.


Like this Page?