Nimble's Yummy Oatmeal Dog Treats Recipe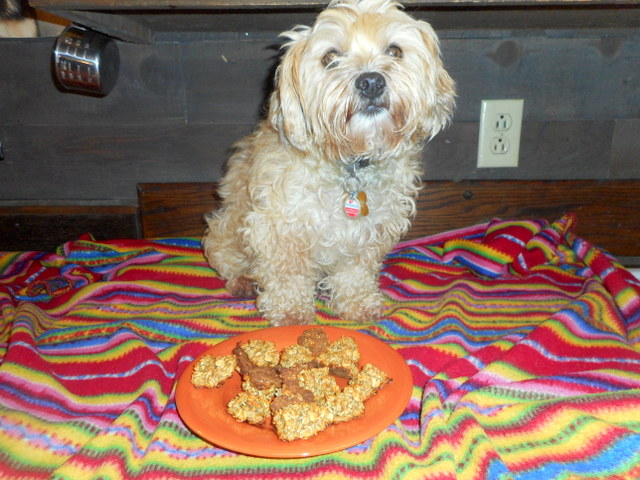 Nimble showing off her treasures!
These oatmeal dog treats, along with our other healthy dog treat recipes, totally blew my (picky) dog's socks off... literally!

How can something so simple, inexpensive, healthy and easy to make be sooo tasty?
My Nimble Doggy insisted I share her heavenly oatmeal dog treats recipe with everyone...
Sorry, unhealthy dog food contaminants aren't included in these snacks.  Also, undesirable additives shouldn't be in your dog treats.
Start with a Few Oatmeal Doggy Snack Ingredients...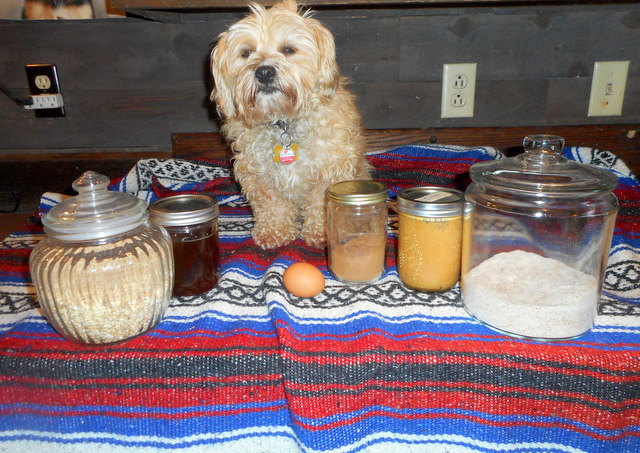 Nimble shows you our healthy ingredients ... some are optional
Please remember, organic all natural dog food ingredients are best for your oatmeal dog treats...

Oatmeal.  1 cup.  Large, whole oats are chewy and make a healthy dog treat!
Honey.  2 teaspoons.  Don't let your pooch catch you eating her sweets!

Water.  Just a pinch... a tablespoon or less... and pure.

---
Do you have a better recipe?  Please share it... just click this link...

We'll publish it as a page on our site!
Maybe your doggie can be in this picture sharing her favorite treat on your published page...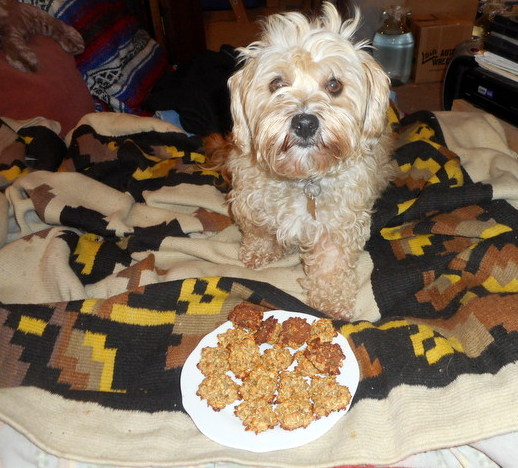 Your doggie could be here... Nimble doesn't mind!
---
The following ingredients are optional.  I can leave these dog treat ingredients out if Nimble is in a hurry!...
This is all You'll Need to Do...


5 easy steps, then stick 'em in the oven!...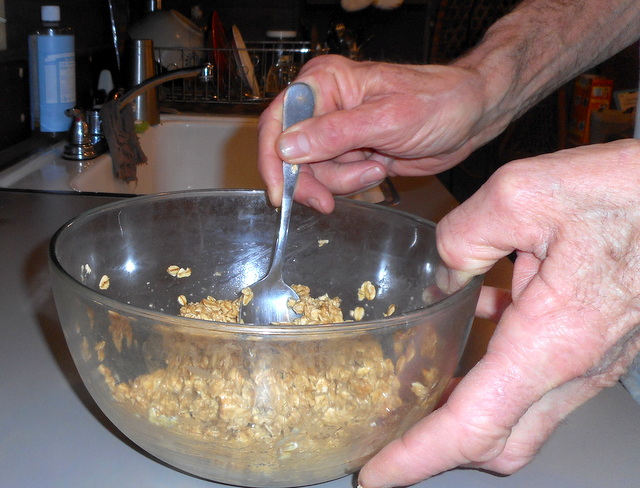 What an easy, fast gourmet dog treat recipe!
Mix the oatmeal dog treat ingredients.
Set your oven to 325 degrees.
Lightly oil the cookie sheet.
Spoon out little1"x1" (or so) tidbits and plop 'em down!
Bake the dog snacks for about 15-25 minutes... presto... ready to munch!
* This recipe packs a pint jar full of healthy homemade dog treats!

Nimble Wonderfully Illustrates Her
Directions Below...


Whipping up Nimble's Oatmeal Dog Snacks


Today we decided to use the cinnamon and honey for some extra doggy zip!...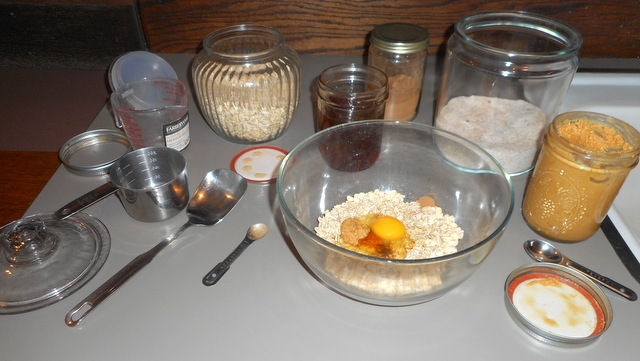 You and your dog should have most of these ingredients on hand
Nimble and I mix all the dog treat ingredients together at once.  I'm sure our dogs don't care... you're not baking the president a cake!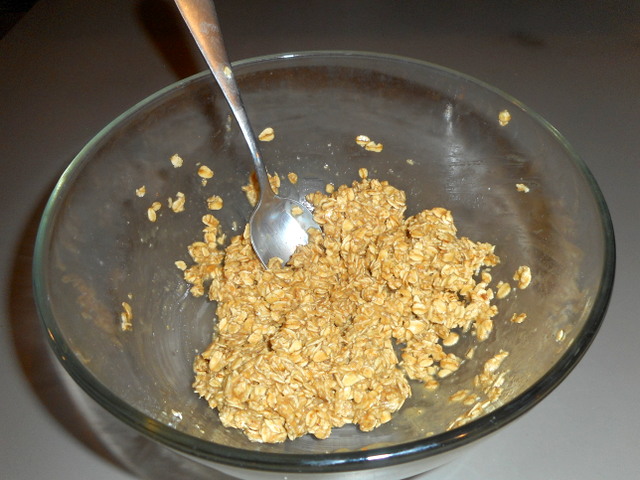 Nimble's canine treat recipe is ready for the cookie sheet!
Oh... don't forget to set your oven at 325 degrees...
Oatmeal dog treats are almost ready to bake!


I spoon the doggy tidbits out into little 1"x 1" (or so) balls onto a lightly oiled cookie sheet.  Then...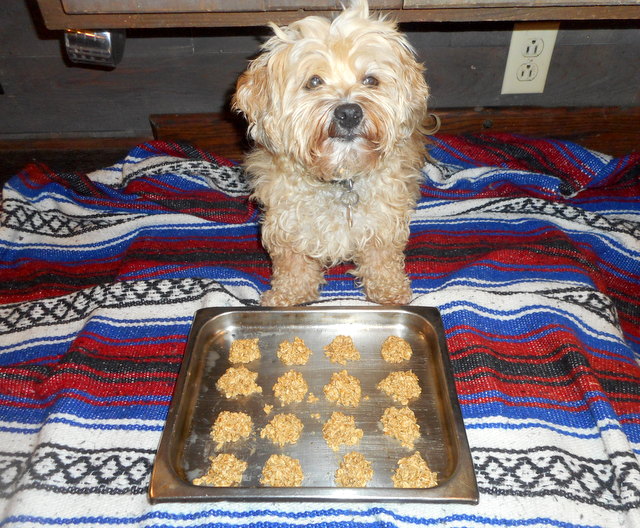 Nimble is proud of her healthy dog treats
...my doggie gives the green light... "Let's sizzle 'em... arf!"
Bake the doggy treats 'till golden brown


Keep an eye on your dog's prizes... they'll cook in the blink of an eye...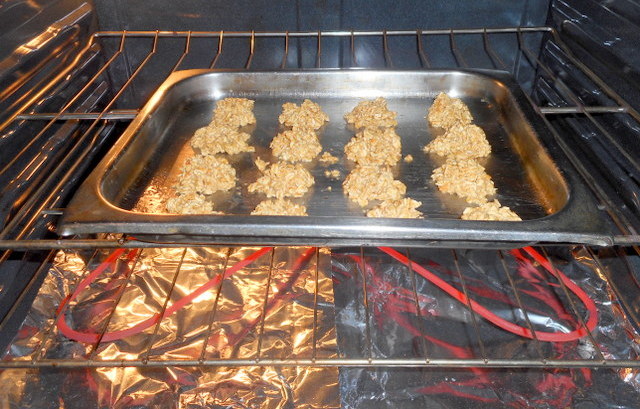 Your pooch might share one of these with you while it's still warm!
I Leave Nimble's home made dog treats in the oven for about 15-25 minutes. The longer, the crunchier... dogs love to crunch.  Keep an eye on 'em or they might disappear!


Nimble's doggy snacks are all done


Check out these dog treats... what a good job (pat on back)!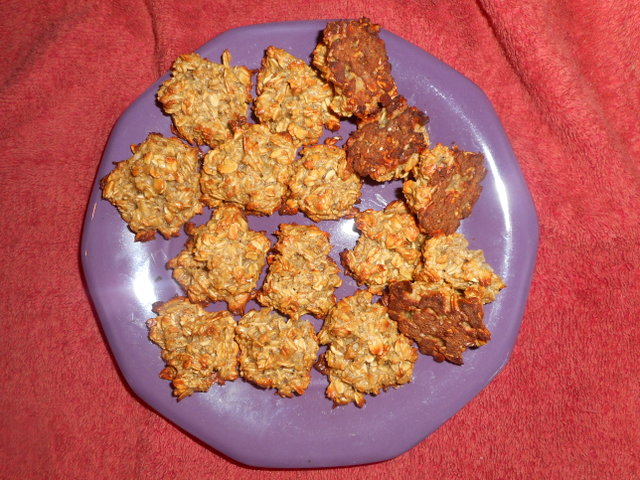 Doggy desert is served...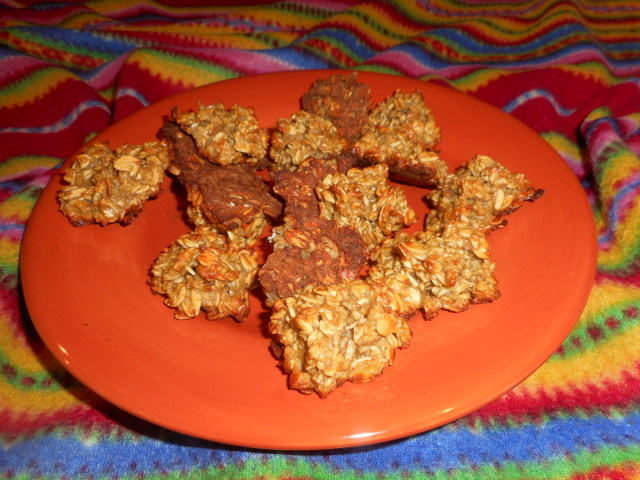 Golden brown... just like the doctor ordered!
Let 'em cool for about 15 minutes before your dog (and you!) sample the treasures.  Detach the dog goodies with your spatula and go for it!
Did your dog (and you) sample 'em too much?  Your doggy might empty her water bowl.  What if your pooch starts drinking more water than usual for some other unknown reason?  Better safe than sorry... you need to read this.

Stashing my furry pal's oatmeal dog treats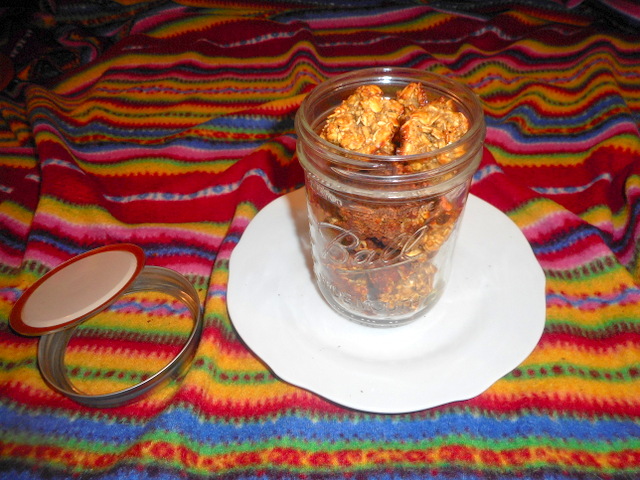 All ready for the freezer or 'frig
We use canning jars to store all of Nimble's dog treats.  They're...
easily vacuum sealed for freezer storage.
easy to see through.  After you have (hopefully) made all of our different healthy homemade dog treats, easy identification really helps!


Extra doggy Treat Info...
What'cha look'in for Nimble?...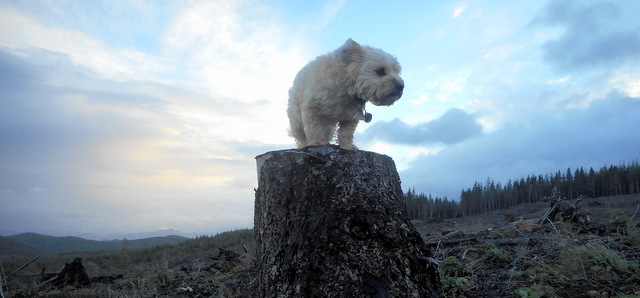 Either Nimble sees a mouse or is looking for her oatmeal treats...
There's no oatmeal doggy snacks way up here!

"When you have time... read about how we incorporate dog treats and other healthy food into my dog feeding schedule... Arf!"  Nimble.


Homemade oatmeal dog treats ingredients


Honey should be raw, unfiltered and unprocessed.   Well, I guess it gets cooked anyway.  Speaking of...

Peanut butter for dogs should be raw (Nimble is shaking her head again... "It gets cooked anyway... arf!").  Please make sure there's no added ingredients.
Speaking of... cooked dog food tends to stick to your furry pal's teeth.  Let Nimble tell you how to brush it away... 
There's usually no reason for a dog with no teeth.  Click here!

Flour made from wheat may not agree with your doggie. Try another type but I think the amount is so minimal your doggie should be fine!

Doggy treat construction


Olive oil works great to keep your oatmeal dog treats from sticking (too much).  Organic, unprocessed and unfiltered is best.  Very lightly coat your dog's cookie sheet.
I mix the dog treat ingredients with a spoon, unlike our peanut butter dog biscuits which are much drier.  If things seem a little runny, add a few more oats or a little flour.  Or, add the water last... you might not need it if the eggs are extra large.
Spoon 'em and plop 'em down on the cookie sheet.  My stainless baking tray is small... I use up all the dough with one batch of doggy treats.
Want to make your healthy dog treats bigger than we do?  Go for it... remember to adjust the cooking time.
Interested in a raw doggy treat ready to go?... just tap here!

Your oatmeal dog treats are all finished!
If your pooch wants the doggy treats hard and crunchy, leave them in the 'frig on an open plate.   Keep an eye on your furry pal's healthy home made dog treats... they'll harden up (and disappear) really quick!

Storing your dog's oatmeal treats 

I've left these doggy snacks in the refrigerator sealed for a couple of weeks.  You can freeze them for months, especially vacuum sealed.
If you decide to vacuum seal, plastic vacuum seal bags work fine for dog treat storage.  I use jars because they can be used over and over.   Also, they cost much less.


Homemade Oatmeal Dog Treats are Peace of Mind!
I advocate feeding raw dog food.  However, cooked dog treats are a nice welcome for your doggy occasionally...
By making dog treats yourself, you know exactly what's in them.  Furthermore, it's fun... even for somebody like me!  That's probably because my doggy appreciates them!   Lastly, you can make the gourmet dog treat recipe to suite your doggy.
Homemade may not be your thing.   That's ok!  You can find healthy treats pre-made... just know where to look.   Our following list will help you:
Did you doggie eat her treats too fast?  Sooth her tummy... tap this link to check out our doggie upset stomach home remedies.  They will also help your canine if she ate too much fruit too fast... especially these yummy strawberry treats.

We're Searching for Other Dog Treat recipes!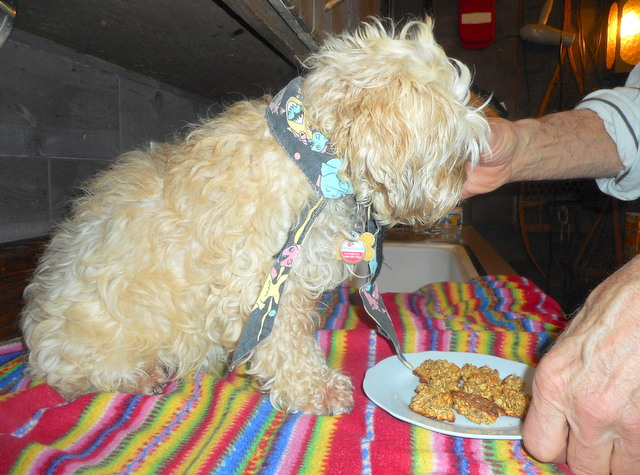 Yumm!
Do you and your dog have one?   We'd love it if you and your pal shared your awesome easy dog treat recipe, experiences, opinions, etc., in the comments section below.  
Please make sure it is healthy and safe, ok?  Thanks.
Or better yet... would your dog like it published as a page on our website?
You can even include pictures of you or your dog making, munching or showing off her natural dog biscuit recipe...
It's as easy as pie...

Please click here to see what our other visitors have wrote...
 Then don't be shy... just jump right in!


Our website is a work in progress!  We'd love it (and so would your dog) if you returned regularly to check out all our new articles.  We can't wait to expand on the topics above! 
Also, we'll include our highly recommended products for you and your dog to choose from... only those we have used or would use ourselves.  Also...

Be sure to check out Scott & Nimble's News Flash for monthly helpful tips and other neat stuff!


Like this Page?

Nimble & I always reply to our visitors' comments below asap!
But... all of you who commented before April 14th, 2023 vanished and Facebook can't fix this so...
I'm "re-replying" (arf!).  All comments from this moment forward will be posted forever (we love hearing from you). 
Scott & Nimble.

Home Page > Making Dog Treats > Oatmeal Dog Treats                      Back to Top