Check Our Dry Dog Food Recall List including other Dog Foods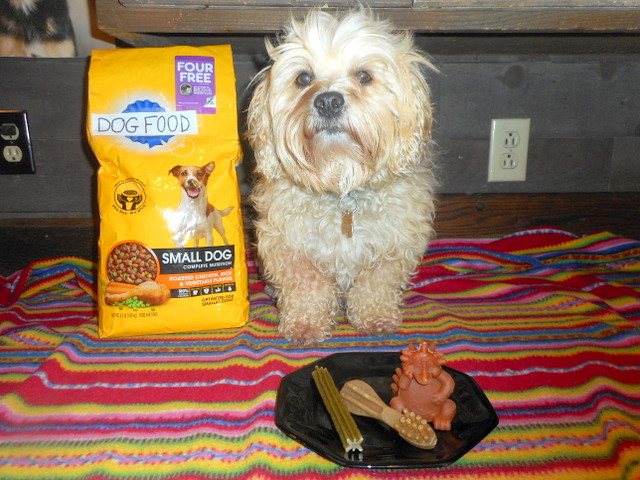 Check the ingredients and Nimble's recall list before feeding your pooch processed dog food. We're thankful for these healthy chews and raw dog food.
In a hurry to buy your pooch's dog food?   Is it found in our dry dog food recall list that includes other dog foods poisonous to dogs?  Did you check the label for healthy dog food ingredients?  Furthermore...
Practicing good hygiene and knowing what to do if your pooch eats contaminated dog food is critical.  Many other nasty dog foods aren't on our list... education is the best prevention!
Following our list of dog food recall brands,  you'll find two links for more details of your chosen dog vittles.  You'll know if your dog food has (other) recall history (even if it's not on our hit list).
Has your dog gotten into something she shouldn't have?  If so, click here to give a natural home remedy a shot.
---
We might include other non-food items in our list below.  And... please check out the link at the end of the following list for recalled drugs!...
 Here's Our Dog Food Recall List...


Numerous human food, animal (pet) food, medical devices, and drug products
Inmar Supply 
Chain Solutions

Darwin's Natural Pet Products raw cat and dog foods (salmonella detected)

Darwin's Natural Pet Products
What the Raw (voluntary recall)

Lazy Dog Cookie Co (voluntary recall)

Brushless Toothpaste Value Packs small, medium and large

Ark Naturals (voluntary recall)

Various human and animal drug products  - Akorn Operating Company LLC

Various brands:     Thought we'd better include this drug here!

Raw Frozen Primal Patties for Dogs Beef Formula
Primal Pet Foods, Inc.  FDA WARNING.
Warning made public by the FDA March 14, 2023.
Natural Selections Antibiotic & Grain-Free Chicken Recipe for Cats and Natural Selections Antibiotic & Grain-Free Turkey Recipe for Cats.  
Arrow Reliance Inc.  FDA WARNING.
Warning made public March 7, 2023.

Omega-3 Supplements for cats and dogs
Multiple Brands (too many to list here)

Pro Plan Veterinary Diets EL Elemental prescription dry dog food
Bottles (exposed lead in bottom of storage bottle)

Veterinary Diets EL Elemental Dry Dog Food
Purina Pro Plan wet dog food
Raw Frozen Primal Patties for Dogs Beef Formula
Freshpet Select Fresh From the Kitchen Home Cooked Chicken Recipe
Family Dollar, Inc. (company name)

Advent Calendars for Cats and Dogs
Raw Cornish Hen pet food "With Supplements"
Pure Vita Salmon Entrée Dog Food
Shredded Entrée canned dog food
From Four-Star Nutritionals
Triumph, Nature Farms, Elm, Evolve,  Heart to Tail, Wild Harvest

We hope you don't need to give your faithful dog medications.  If you do... please check out this Hit List!
---

Please be sure of Your Safe Dog Foods Choice...


Here's the links to more details for our dry dog food recall list including other dog vittles harmful to your furry companion...

Are you and your dog hunting for a healthy pre made dog food?  Looking for a certain type?  Please check out our organic dog food menu.  I personally review each brand...
If it's not good enough for my dog you won't find it on our healthy dog food list.  Our best all natural dog food menu is a constant work in progress...
Protection against Contaminated/Recalled Dog Food


Don't forget to practice good hygiene!   I'm the first to admit... I'm not a fanatic.  My dog and I do a lot of sharing (and kisses)... but I'm not recommending this.  I feel our good health (healthy immune systems) makes a difference.  Also...
I'm extremely cautious with my dog food and healthy dog treat choices.
"We make a lot of home made dog treats... check out this yummy chicken treat I'm about to snatch up.  If we buy 'em, my daddy does a ton of research first... arf!"  Nimble.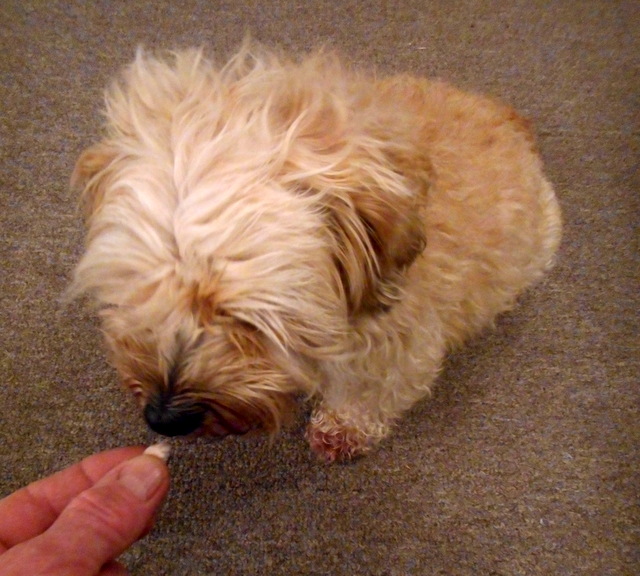 Making dog treats is assurance against some unhealthy manufacturing practices
Salmonella in dogs... tap here to read our page about this popular canine disease...
Here's some good contaminated dog food prevention tips.  What goes for us also applies to our faithful friends...
Warm soapy water works best:
Wash your dog feeding bowls and dog food containers after use.
After handling your pals dog food and eating utensils, wash your hands and food preparation surface.  Washing hands is my weak area....
Properly store your dog's vittles, especially if it's not dry dog food.  Leftovers should go right back into the 'frig or freezer for proper dog food storage.
Wash and change your dog water bowls often.  I change Nimble's (distilled) water every 2 days.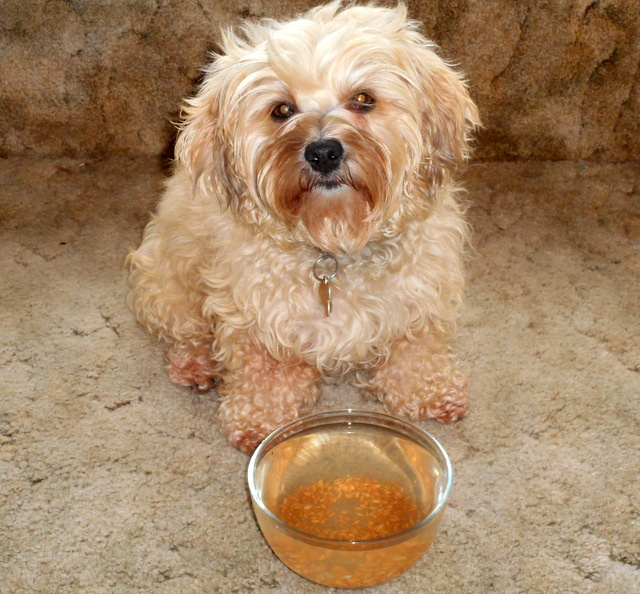 Nimble's water bowl and distilled water is changed regularly. Notice the organic seeds for extra nutrients.
Nimble wants me to remind you...

As long as we're on the subject of hopefully finding your all natural dog food, please don't forget to clean your dog's teeth.  Click here and Nimble will show you how to brush those pearly whites.  There's some pretty cool dog tooth care info also!


Has Your Doggy been Poisoned? Act Now!


Is your furry pal poisoned from eating tainted dog food or treats?  Call the Pet Poison Helpline immediately.  Also, get your dog to the vet asap!  You should have contact information on hand at all times.  The Pet Poison Helpline shows how to build an emergency dog food poisoning kit.
Additionally...
It's a great source of information for dog food safety (feeding correct dog food).
If your doggy has been poisoned, please file a complaint with the FDA.  Click here to access the Consumer Complaint Coordinator for your state.  You'll also find much more useful information that will benefit you and your pooch.
Filing a complaint will protect other canines from foods poisonous to dogs!
Did your dog eat exercise right after eating?  This could upset her stomach or cause dog bloat symptoms.   Please click here to choose one of our dog upset stomach home remedies.  Here's info about dog bloat... nothing to 'mess around with! 



Here's some Interesting Dog Food Recall List Facts


Removing a product from the market through actions taken by a firm is known as a recall.  There are three types:
The company may take action itself to remove the unhealthy dog food.
The FDA may request that the product be removed.
Removal of the dog food by an FDA order.
On September 2015, the safety of your dog's food took a big turn towards improvement!  Written plans for prevention of dog salmonella and other food-borne illnesses are required.  Manufacturers of pet food sold in the U.S. must comply.  Furthermore, product contamination prevention is being enforced through basic sanitation measures.
Face it... some manufacturers won't pay extra expenses to gurantee a safe, healthy dog food or treat for your pooch.  They'll go out of their way making sure their product isn't on our dry dog food recall list combined with other dog foods.
Based on the size of their business, pet food manufacturers are given a staggered number of years to comply.  My research shows this can be anywhere from 1-3 years following September 2015.
Are you hesitant about buying dog food? Thinking about making your own?   No problem... please click here!

If it's Not on Our Dry Dog Food Recall List including other Dog Foods...


…doesn't mean it's ok!
Nimble and I want to be sure you don't feed anything harmful to your dog.
The products listed here caused acute noticeable symptoms.  Many dog foods, over time, do just as much damage.  It just takes longer for dog diseases to rear their ugly heads.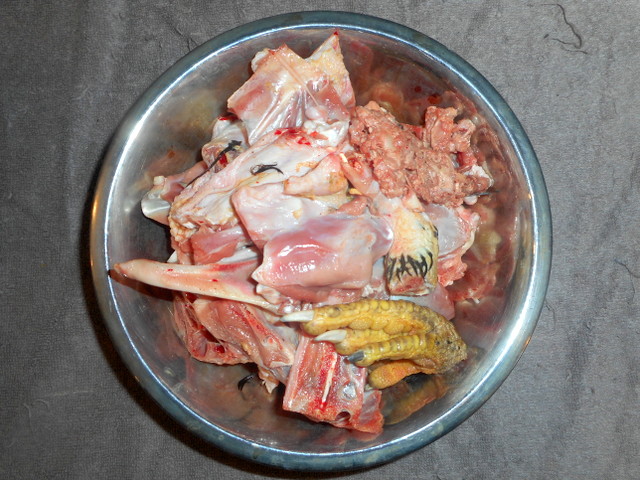 Nimble's organic free range chicken will not cause poisoning or disease!
We're constantly updating our list of dog food recall brands...

Here's some good articles about dog food quality (ingredients, processing, growing, buying and more)...
Dog food intolerance symptoms.  Click here to learn more about annoying dog food reactions.
Our website is a work in progress!  We'd love it (and so would your dog) if you returned regularly to check out all our new articles.  We can't wait to expand on the topics above! 
Also, we'll include our highly recommended products for you and your dog to choose from... only those we have used or would use ourselves.  Also...

Be sure to check out Scott & Nimble's News Flash for monthly helpful tips and other neat stuff!


Like this Page?

Nimble & I always reply to our visitors' comments below asap!
But... all of you who commented before April 14th, 2023 vanished and Facebook can't fix this so...
I'm "re-replying" (arf!).  All comments from this moment forward will be posted forever (we love hearing from you). 
Scott & Nimble.

Home Page > Dog Food Quality  > Dry Dog Food Recall List                      Back to Top