Nimble's Favorite Peanut Butter Dog Biscuit Recipe!
My doggy and I will show you... it's easy  to find a peanut butter dog biscuit recipe that's healthy, safe and keeps fido begging for more!  

"Doggy life doesn't get much better than this... arf!"

These treats are second only to Nimble's meaty treats!
Nothing is as simple as these peanut butter dog treats.  However, just a few ingredients are needed.  These probably are stowed away in your kitchen cabinets and 'frig right now.
My dog always sniffs these doggy treats for awhile at first.  Then gobble, gobble, gone!...
Not like this doggy!...

Nothing worse than your canine acting like this while offering her a doggy treat hot out of the oven!
Want a good laugh?  Click here!

Nimble's Dog Treat Instructions at a Glance...

Dog treat ingredients:
Olive oil. Organic, unprocessed is best but use whatever your dog prefers!
Oats. 1/2 cup. Makes the homemade peanut butter dog treats chewy!
Water. 3/4 cup. Maybe start with a little less...
Optional:
Honey. 2 tsp. Nimble always wants me to add more.
Garlic. 1 tsp. Great home remedy for dog fleas!
Process:
Preheat your doggy's oven to 325 degrees.
Mix dry dog treat ingredients. Then...
Add the other ingredients.
Roll out dough to 3/8" thick and use your dog biscuit cookie cutter. Or...
Roll into little 3/4" x 3/4" balls and press down with your paw or thumb (we're not classy here!).
Doggie treat notes:
Dog treat storage:  Keep in 'frig for a week... they never last this long so we're not really sure!  Store for months in the freezer.
Makes about 32 "thumb pressed" doggy tidbits.
Nimble Beautifully Illustrates the Process Below...


Our peanut butter dog biscuit recipe ingredients...


Organic olive oil is used to very lightly "grease" the cookie sheet.
Cookie sheet.  We use stainless steel.  Use whatever you feel comfortable with for making homemade dog treat

s

.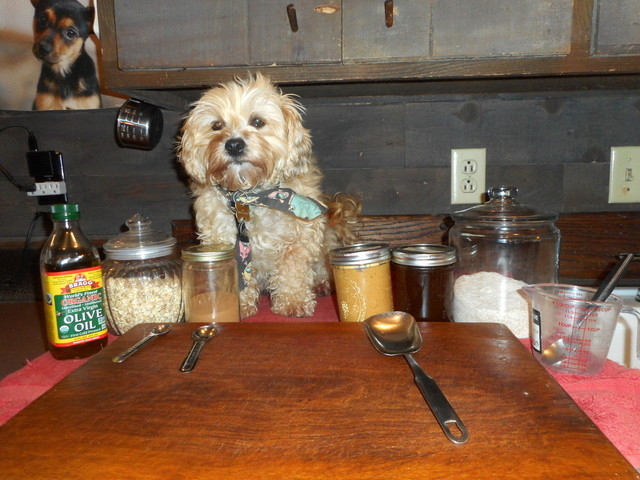 "This is all you need... arf!"
Would you like to learn about organic and human grade ingredients?... ask your dog to tap here.
The Organic peanut butter we use for making dog treats is raw.  It probably doesn't matter... Nimble says it gets cooked anyway!  It's best to use pure peanut butter... stay away from added sugar, etc.
Organic whole oats are found at most health food stores in bulk.  Nimble prefers the "big, regular" rolled oats... these are more chewy than the quick oats.
Whole wheat flour is our preference to make your own dog biscuits.  Again, organic is always healthiest.  Like whole oats, it's easily found in most health food stores.  If your dog is allergic to wheat, other flour choices are just fine!
Pure water is best to make a tasty dog treat.  Don't trust water bottles with the pretty labels if you expect pure water.  Making distilled water is one of our "hobbies" to make sure it's pure.  Speaking of water... if your doggy ever starts gulping the h20... you need to know this stuff!

Optional dog treat ingredients. 

Cinnamon, honey and garlic are nice additions for your healthy dog biscuit recipes.  Nimble chomps her dog treats down either way!   Add one, two, or all three if your doggy wants you to!

Mixing Nimble's peanut butter dog treat ingredients

Nimble showing you how hard she worked!
Begin by preheating your oven to about 325 degrees F.  Then, mix the dry dog treat ingredients together first... 1 cup flower with ½ cup rolled oats.  At this time add 1 tsp cinnamon.  1 tsp garlic is also a nice addition (fleas don't like it!).  Then...
Add a couple tbsp honey (if you want) and ½ cup (or a little less) of peanut butter and about ¾ cup hot water.  I use my hands to work the peanut butter dog biscuit recipe dough until it is ready to go.  Add more flour if the mixture seems too tacky.


Styling Nimble's dog treats with class...

Nimble making sure I do it right!
Roll the dough out until it's about 3/8" thick or less.  Use a dog biscuit cookie cutter of your choice.  I just roll it into little balls about 3/4" x 3/4" or bigger.  Then, Just press 'em down with your thumb.  Magic!
But, I guess I don't have much class (this doggie does!)...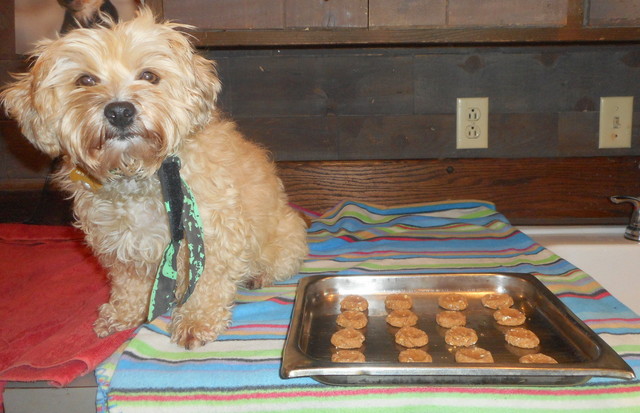 "Ok dad, they're ready for the oven... arf!"

It's time to bake Nimble's easy dog treats!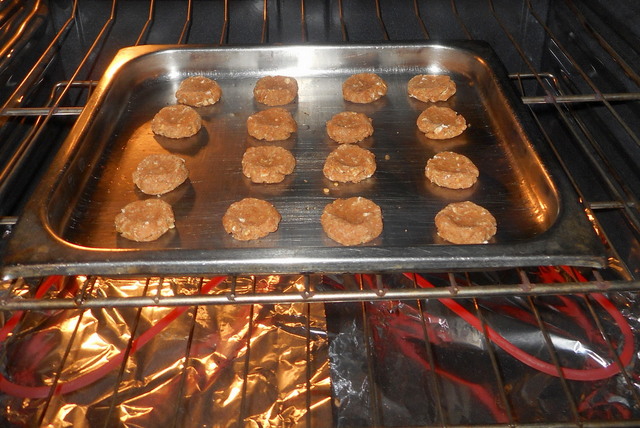 They look so good here... why bake 'em?
Very lightly coat the cookie sheet with oil to keep the soft dog treats from sticking.   The sizes above will be hard and crunchy after about 30 minutes. 
Go ahead and adjust the dog biscuit cookie dough thickness and cooking time for your dog's desired texture.  Actually, I really don't think Nimble cares either way!
Presto... done. What a simple peanut butter dog treat recipe!


Shut the oven off and let the little gems cool down.  If you leave them out over night, they'll harden up more.
Yea!  Our finished product...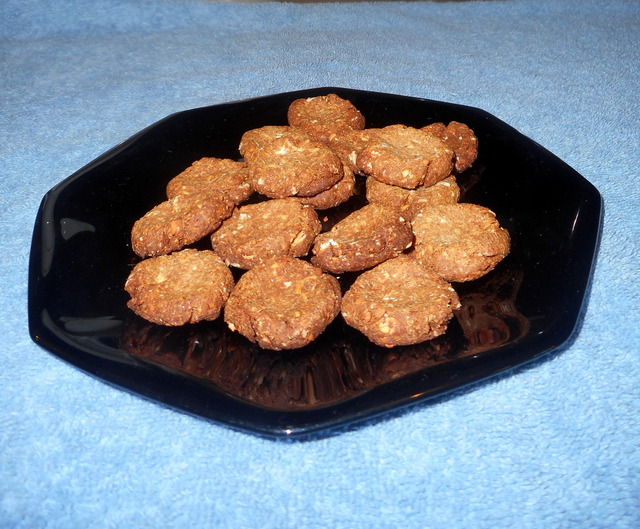 Check it out... talk about a doggy treat delicacy!
Watch where you leave them!  If your pooch gobbles 'em all up, you might need one of our dog upset stomach home remedies...
Please give this page a whirl... tap here.
Or,
You might like your choices in this article better.


Storing you dog's little treasures...


Keep the homemade dog biscuits away from Fido in a dog biscuit jar. 
What... she stole a bunch?  Now she has the runs?  Click here... we've got just the thing! 
Where was I?  Oh yes...
They'll keep at room temp for a few days at least.  Store your gourmet dog treats in the 'frig for a few weeks or the freezer for months (an air tight container is best)!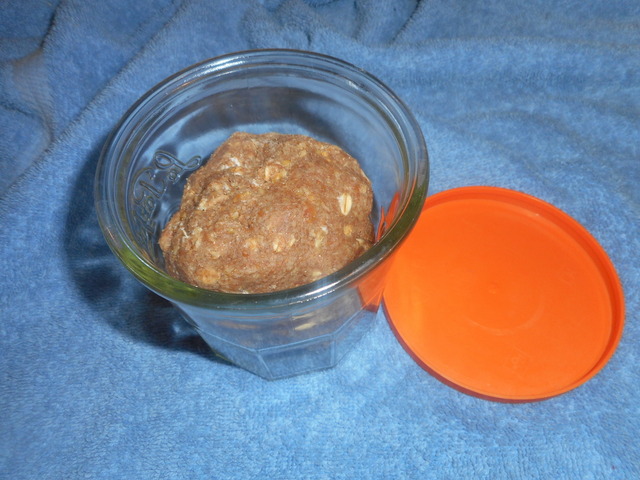 Extra dough? No problem... just freeze!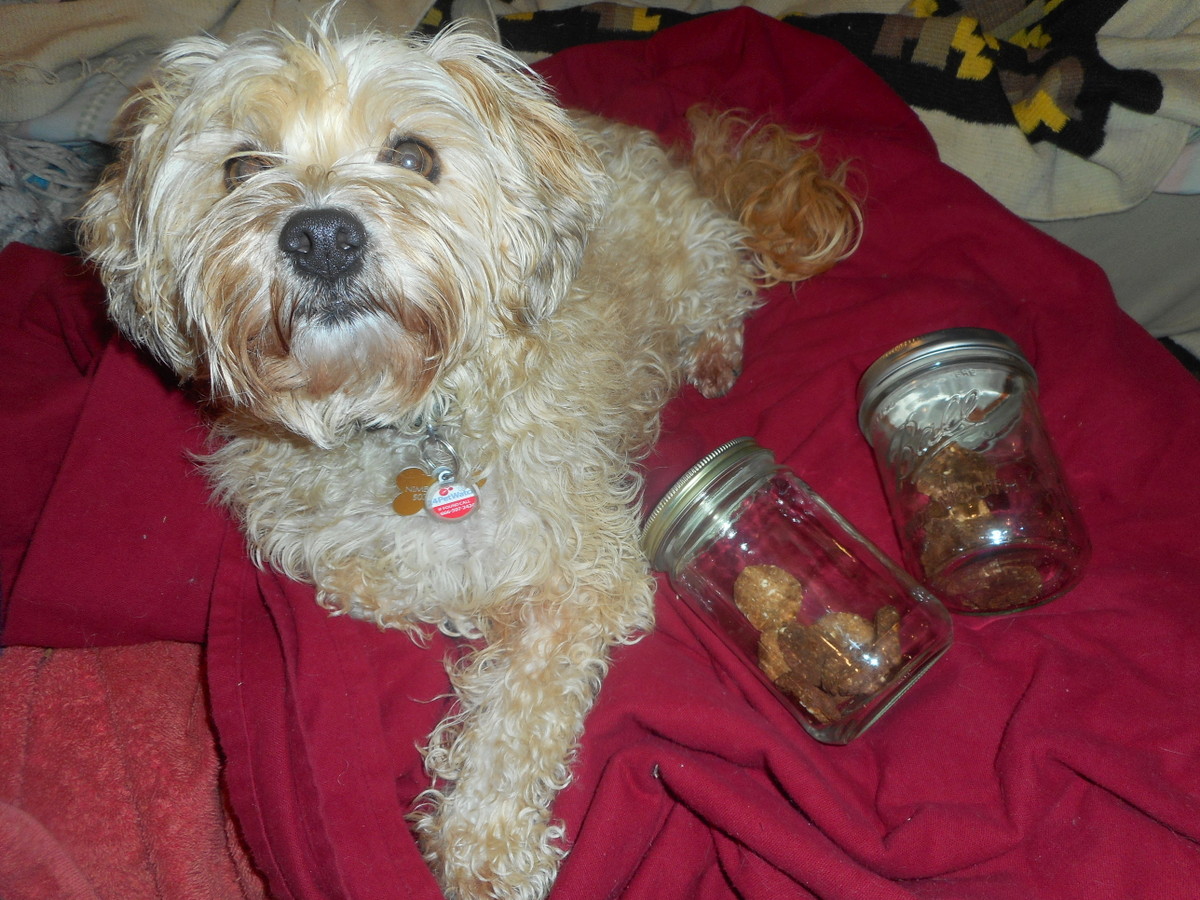 Easy storing in canning jars for freezer or 'frig
Just freeze your extra peanut butter dog biscuit recipe dough (if you have any left!).
Well... did Your Dog Gobble Our Homemade Dog Snacks?
Nimble and I hope (you) and your pal happily gobbled down her healthy homemade peanut butter dog treats!  We feel strongly about the importance of making a dog treat that's easy, safe, healthy and inexpensive.  
If they weren't, you might have second thoughts about messing up your kitchen.  Also...
Now that you're making your own dog treats, you can stop worrying about doggie salmonella... you got'ta read this!


After reading this page...
This Peanut Butter Dog Treat Scenario won't Happen to You!...

You just spent hours slaving away in the kitchen.  Sweat's pouring off your forehead.   You made a big mess!  You drove all over town (through heavy traffic) searching for healthy peanut butter dog biscuit recipe ingredients...
"Darn that driver... he just took my parking spot!"

"Don't over do it with that peanut butter doggy snack stuff dad" chuckles Nimble!
Nimble laughing at me cooking away while sweating in the hot kitchen!

Now that peanut butter dog biscuit recipe is really aggravating you...
To add to this... you spent a ton of money on those "easy" dog treat ingredients and burned up a tank of gas!
Maybe you should have stuck with your oatmeal home made dog treats!

But... you love your pooch and will do anything for her (you keep telling yourself this).  Furthermore...
Your furry pal is getting bored while driving around looking for all those peanut butter dog biscuit recipe ingredients you thought you needed.

Ok... time for that doggie treat moment of truth...


You call your dog over (how come he isn't already here?  Hmm...)  Slowly, she walks over.  Sniff.  Sniff.
Your dog slowly puts her head down and lays on the floor, not interested.
You growl... this catches your dog's attention!



"

Easy peanut butter dog biscuit recipe?... I quit!"



You hold back... it's not your furry pal's fault!
The next day, for some reason, you crank up your computer and find our site...

Great... you're making dog biscuits again...


Keep going... don't change your mind!
If raw is your thing, try some chewy, crunchy bones also... just click here.

Don't be Shy... Please Share that Peanut Butter Dog Biscuit Recipe!

My Nimble doggy is getting really excited!  "I check our website first thing every morning for new dog treat ideas... arf!"  Nimble.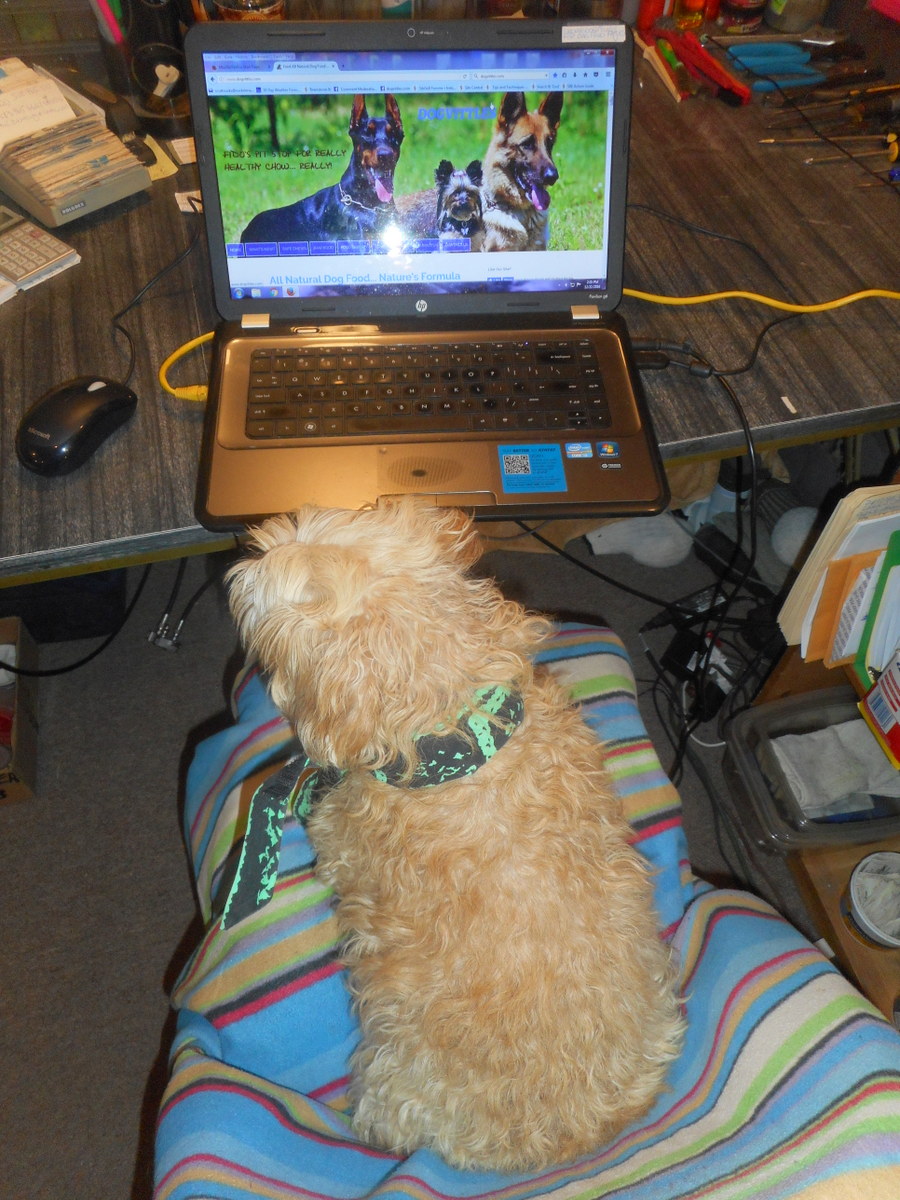 "Aw shucks... no new recipes today... arf!"
If ya'll start sharing your secret healthy dog biscuit recipes, Nimble won't spend so much time on the computer searching!

She also checks our safe and sound doggie chews and feeding dogs tasty bones pages!
Here's How to Share Your Gourmet Dog Treat Secret...
If you'd like, share it in our comments section below.  Or...
you might like this idea even better (I hope we don't sound like we're nagging!)...
We'll publish it as a page on our website... just ask your pooch to click here!
We only ask this of you and your pooch... your dog treat concoction must be safe, easy to make and healthy!
Ask your doggy if she has any photos of her healthy dog biscuit collection.   Or, perhaps she has photos of you making them or her gobbling 'em down!
Our website is a work in progress!  We'd love it (and so would your dog) if you returned regularly to check out all our new articles.  We can't wait to expand on the topics above! 
Also, we'll include our highly recommended products for you and your dog to choose from... only those we have used or would use ourselves.  Also...

Be sure to check out Scott & Nimble's News Flash for monthly helpful tips and other neat stuff!


Like this Page?

Nimble & I always reply to our visitors' comments below asap!
But... all of you who commented before April 14th, 2023 vanished and Facebook can't fix this so...
I'm "re-replying" (arf!).  All comments from this moment forward will be posted forever (we love hearing from you). 
Scott & Nimble.

Home > Making Dog Treats > Peanut Butter Dog Biscuit Recipe                 Back to Top