Making Nimble's Cake from Other Dog Birthday Cake Recipes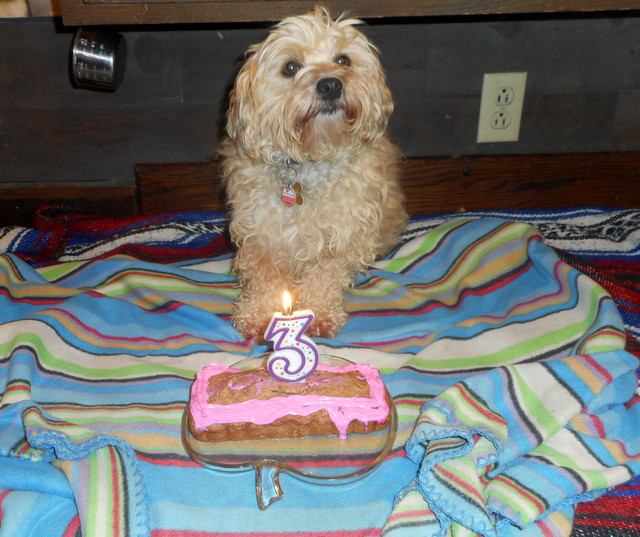 Happy birthday Nimble!
We took bits and pieces from other dog birthday cake recipes to make Nimble's simple customized cake.  It's safe, healthy, easy to make (even for me) and tasty (I had a bite!).  Nimble wants to share it with your pooch!
We never baked a cake before!  However, dog birthday cake recipes are really popular!  Nimble and I felt our dog treat recipe menu would be incomplete without a birthday cake treat for your pooch.
Our doggy taste tester results...
Nimble sniffed her first piece, than ate about half of it after dinner.  Remember, she's picky!  Maybe she was a little upset.... I'm months late making her birthday cake (she's three!).
Nimble's Ingredients from Other Dog Birthday Cake Recipes


Organic dog treat ingredients are best...
Flour. 1 cup.  Whole wheat.
Egg.  One large.   Nimble said to buy free range if you can.
Vegetable oil.  ¼ cup.  Please stay away from those processed oils... they aren't good dog food ingredients.
Banana (mashed).  1 large.  The riper, the better!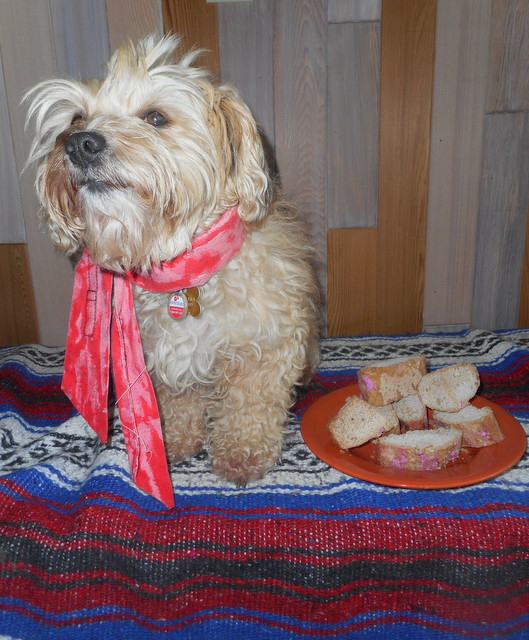 Nimble insisted I cut up her cake so she could share it with her doggie friends

Optional dog birthday cake ingredients


My idea... these both seem appreciated by Nimble and other canines...
Alternatives to our dog birthday cake recipes ingredients


Pureed fruit or grated carrots.   About ¾ cup.   Use these in place of the banana.
We also made our dog cake recipe with pureed fruit instead of the banana.  I felt it turned out good but I'm not an experienced baker!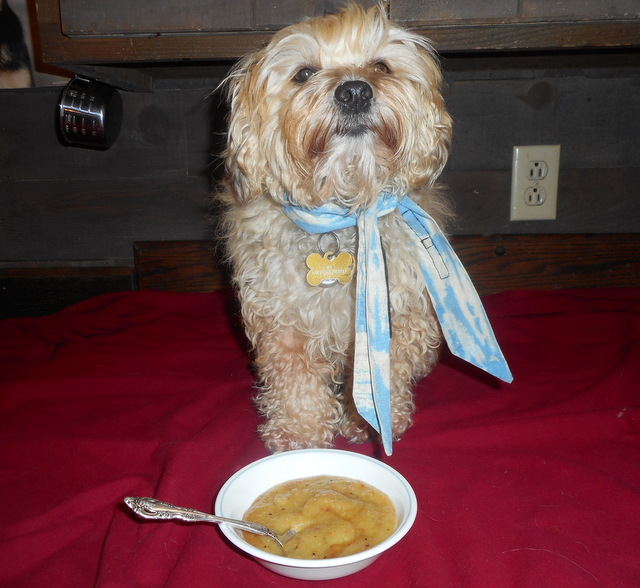 We added some of Nimble's breakfast fruit to one of her cakes...

Decorating Nimble's birthday cake with icing...


We cheated... I wanted our pictures to be pretty so we used some store-bought cake icing.  I removed it before Nimble tested her dog cake recipe!
Here's some healthy dog treat frosting alternatives I researched...
2 ounces cream cheese, ¼ cup peanut butter and a tiny squirt of milk. Or...
½ cup plain yogurt and ¼ cup (Nimble's) peanut butter.   Feeding dogs yogurt that isn't plain is very unhealthy for your doggie!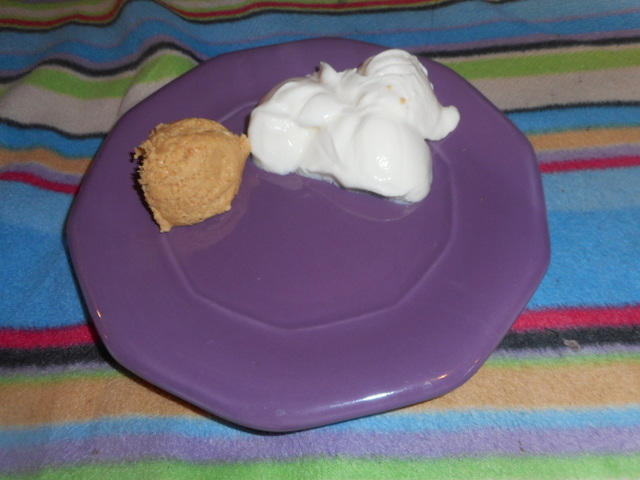 Make sure your yogurt and peanut butter is pure and healthy...
Our Procedure...


Preheat your dog's oven to about 350 degrees.
Mix the dry healthy dog food ingredients together.  Mix your wet ingredients separately in another bowl.  Then mix both batches together.  Why can't I just mix all the good dog food ingredients together at one time?... ha!
Pour the doggy batter into an oiled cake pan.  We used an 8" x 4" x 3" loaf pan.
We baked Nimble's dog cake recipe for about 35 minutes.... I kept opening the oven door and peeking!
We let it cool for about 45 minutes... it fell right out of the pan.

Follow Nimble's Dog Birthday Cake Recipes Creation below...


Photo by photo!

Nimble's dog cake ingredients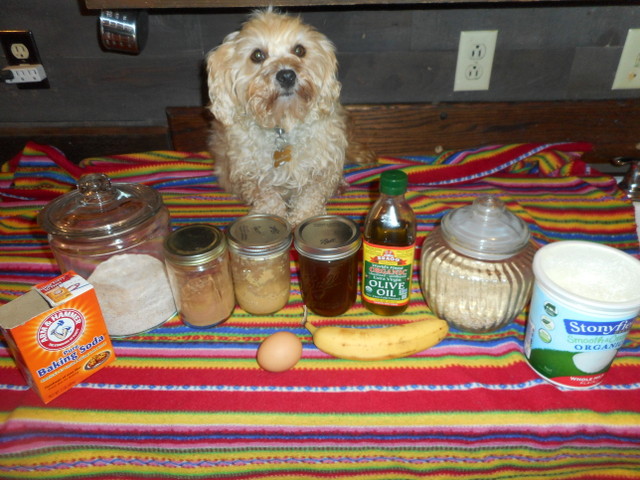 Nimble displays all of her doggy cake ingredients
When you get done looking at Nimble's display below, come back here and click this link to see our other yummy home made dog treats!
Our optional ingredients cinnamon and oats were used in the mixture for the cake in these photos.  We also used them in the pureed fruit cake concoction without the banana.
Mixing 'em up...


We hand mixed all the ingredients together.  Nimble suggested (nicely) I should invest in a mixer... good idea!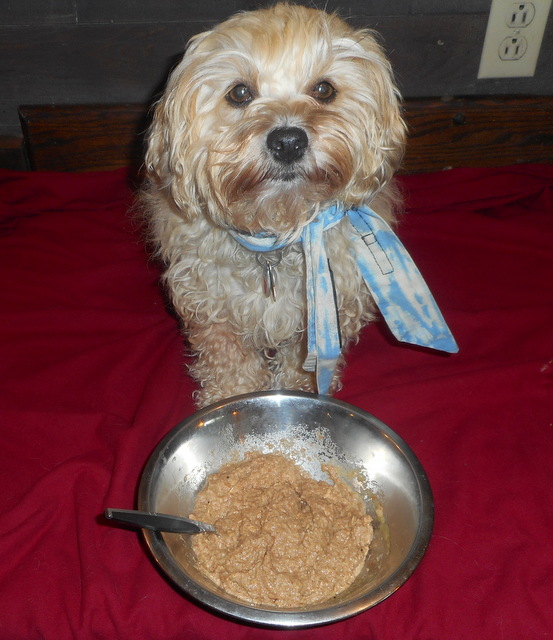 All mixed up by hand... I don't do this often enough to require a mixer!

Shaping and baking Nimble's dog birthday cake ingredients


We poured the dog treat ingredients into a loaf pan.
Nimble made sure it reached the oven ok!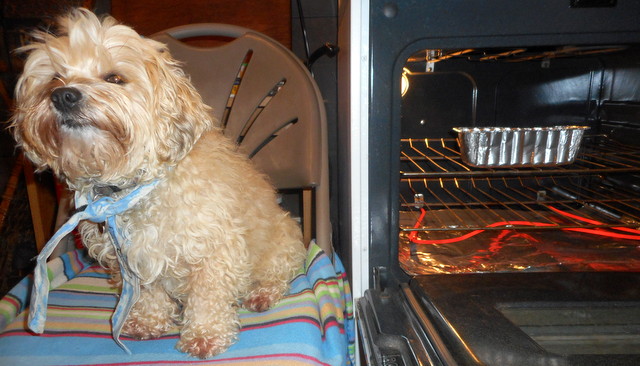 Nimble asked me to peek in the oven to make sure everything was ok!

All finished baking our dog cake recipe...


Hey, it turned out great... not bad since this was our first!
Nimble gave me a little piece...
"My dad gave me a chicken treat for sharing!"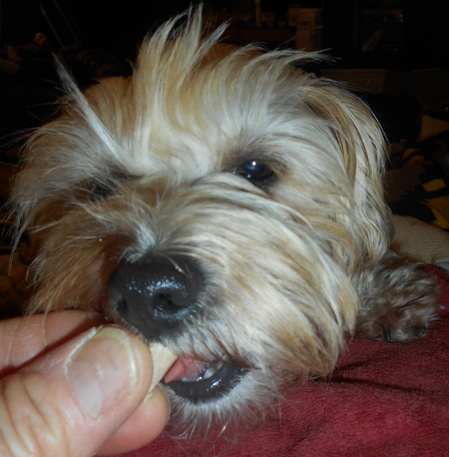 Nimble liked her cake but she's crazy about her meat treats!
I added "our" frosting and candles for Nimble's cake... voila!
We took our pics, then removed the frosting.  Nimble suggested I cut her cake into several pieces for her doggie friends.
One thing our cake doesn't have... dog salmonella!  Tap here to learn more...

Dog birthday cake storage


I froze the cake pieces until Nimble's friends found them!
If you use the homemade frostings, I think your cake should be kept in the frig (or freezer). Otherwise, they might "run" off.

Additional Dog Birthday Cake Recipe Notes

About Nimble's dog treat ingredients


Warming the peanut butter for dogs before mixing should make it easier to work with.  I don't when we make Nimble's other easy homemade dog treats... seems I forget to do it ahead of time.
If you're going to make the peanut butter/yogurt frosting, warming the peanut butter first makes mixing much easier!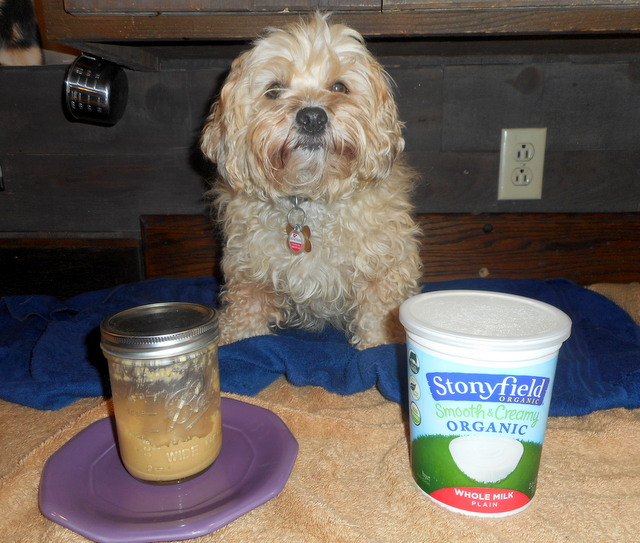 Notice Nimble's raw home made peanut butter...
We use whole wheat flour.   If your your dog is allergic to this, try an alternative, such as rice flour.  Contact your vet for an educated opinion if you are unsure.  Our homemade dog food ingredient suggestions are only based on real life experiences...
We don't examine thousands of dogs that walk through your doggy doctor's doors!
I used less baking soda than all of our researched dog birthday cake recipes called for.  If I'm not sure about the ingredients used in dog food I'll keep them to a minimum.
We used organic, unprocessed olive oil.
Keep in mind foods such as this cake don't clean your dog's teeth. Brushing and safe chews will do the job!   Learn more here:
Optional dog treat ingredients for your doggy cake


I added cinnamon and oats because it worked so well in some of our yogurt, peanut butter and oatmeal dog treats.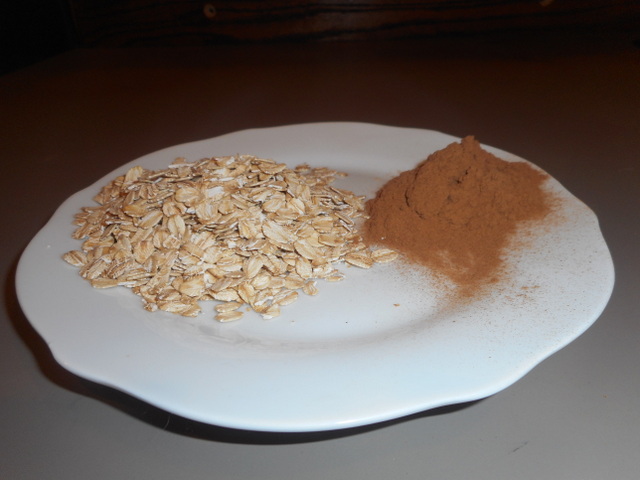 These whole, large organic oats are really chewy... Nimble likes them plain like this
I really like the yogurt and peanut butter icing idea.   I mixed some up... it seemed a little runny.   If you keep your doggy cake in the 'frig (or freezer) I'm sure it's ok.  I used the store bought because I wanted it to "hold up" while taking pictures!

Alternative ingredients from other dog birthday cake recipes


To be honest with you, I like the cake made with the banana instead of the fruit a little better!  Nimble didn't care...

Nimble's dog cake building process


Next time I'm going to just mix all the dog food ingredients together at one time!  We'll see what happens...
I lightly oiled the loaf pan.  The cake fell right out after it cooled... surprised both of us!
A mixer would be a great help but we've never baked a cake before. Hand mixing Nimble's other dog treat ingredients seemed easy enough...

Yummy dog birthday cake storage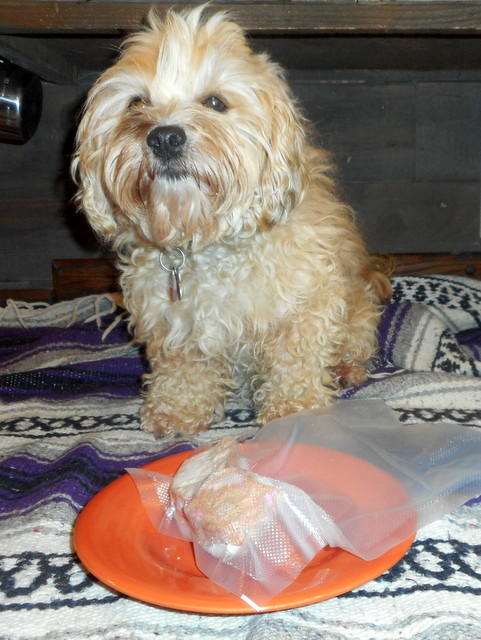 Nimble says we probably don't need to vacuum seal... her cake gets munched before freezer burn sets in!
I have no idea how long Nimble's cake will last in the refrigerator. 
No worries if you let your dog(s) gobble it up right away (not a good idea).
Because of the lack of preservatives, it might be a good idea to freeze it for long term storage.
Cut the dog cake recipe into pieces and freeze on a plate.  Don't let them stick together.
After freezing, store the frozen dog treats in dog treat containers or freezer bags.  Vacuum seal them if you like.
Freezing your gourmet dog treats first keeps them from getting crushed while vacuum sealing.
Also, I froze some pieces in a quart jar, vacuum sealed. 
First freeze the dog treats on a plate, then put them in the dog treat container jar while frozen.  This keeps them from sticking.
Did your doggy gobble a bunch before it got to the freezer?  Does she have the squirts now?  We've got you covered... doggy runs remedies to the rescue... click here!

Please Share Your Dog Birthday Cake Recipes with Nimble!


We learned a lot from making our first doggy cake!
Honestly (pat on the back again)... I felt we did a good job of rounding up safe and healthy dog food ingredients.  This helped us to make the easiest of dog birthday cake recipes!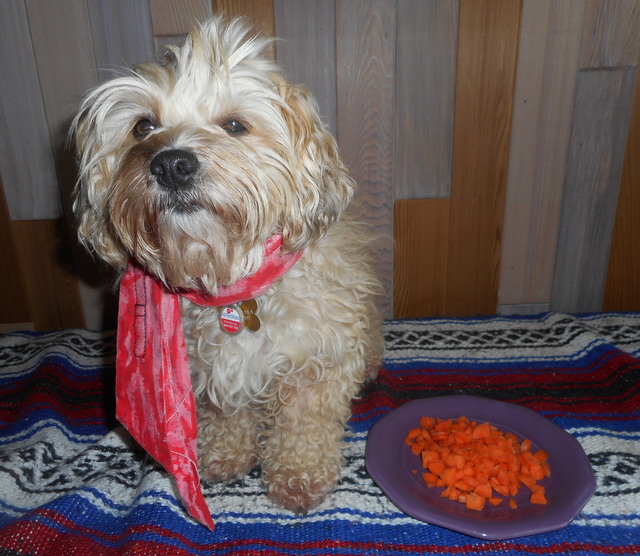 You can't use healthier ingredients than carrots!
I'm sure all of you doggy bakers out there can give us lot's of advice...
We'd be pleased if you would.  As with the conclusion of our other dog homemade treat recipe pages...
… please tap on this link and share your recipe (cakes and other easy homemade dog treats).
Or...
Shoot us a call in the comments section below... thanks.  Arf!
Our website is a work in progress!  We'd love it (and so would your dog) if you returned regularly to check out all our new articles.  We can't wait to expand on the topics above! 
Also, we'll include our highly recommended products for you and your dog to choose from... only those we have used or would use ourselves.  Also...

Be sure to check out Scott & Nimble's News Flash for monthly helpful tips and other neat stuff!


Like this Page?

Nimble & I always reply to our visitors' comments below asap!
But... all of you who commented before April 14th, 2023 vanished and Facebook can't fix this so...
I'm "re-replying" (arf!).  All comments from this moment forward will be posted forever (we love hearing from you). 
Scott & Nimble.

Home < Making Dog Treats >  Dog Birthday Cake Recipes                           Back to Top