Your Doggy's Health... She's Depending on Your Healthy Dog Food Choices!
---


Each month you'll receive news that... without a doubt... will enhance your furry pal's health! Like our Website... everything you read is based on our own experiences (mostly) or those of others we trust!

If you like this newsletter,, please do a friend and us a big favor and pass it their way!

Did a friend forward this to you? If you're excited about what you read, please subscribe by clicking here to our Website Pages... you can't miss the Subscribe Box in the right column!




---
"Barf Dog Food" Doesn't Mean Your Dog Will Barf it Up!

Nimble Doggie with her fresh, packaged raw meat...



Instead...

It means "Bones and raw (dog) food." However... opinions vary about what type of raw food you should be feeding your dog. In this article...

I'll make it simple for you (we humans tend to complicate things). This is how I see it...

When a wild dog eats a prey animal (mostly rabbits and mice around here)... that tells you all you need to know (about proportions and what to feed your dog). This is the main part of their diet.


Also... wild dogs are opportunistic. Every now and then they'll eat grass, berries, apples, etc. (a small part of their diet)...



I've studied wild dog poop, barf (yes... barfed dog food), bone remnants, etc., over many years of spending time in the wild with my doggies.

Now... let's break it down...


Muscle Meat

"Ok daddy... can I eat my frozen meatballs now?"...



When a wild dog eats an animal, muscle meat is the main ingredient.


Bones

Here's a collection of bone remnants left over from Nimble's bone-chewing sessions...



There are less bones than muscle meat but more than...


Organ Meat

"I'm soooo lucky my daddy feeds me these organic beef livers and kidneys. He'll even use a couple to make cooked liver & kidney treats! ...





I've observed that wild dogs go right after the organ meat! I've scared them off on occasion while feasting on their prey. The organ meat seems to get consumed first along with the pre-digested...


Stomach Contents: Yes... this is also Barf Dog Food!

Greens and other vegetables are part of a super healthy dog diet...



They're all "ground-up" in the prey animal's stomach.

Make sure you juice/blend them (veggies, fruit, nuts, seeds, etc.). What a wonderful source of probiotics!



In a Nutshell...

Wild dogs are not on this strict schedule 24/7. These are just general guidelines.

Some homemade healthy dog treats (cooked/uncooked), etc., now and then is ok. Speaking of... you've got to check out Nimble Dog's tasty treats (seriously) cooked up by her Daddy!


"Hey... I want one of those before you vacuum-seal 'em!"...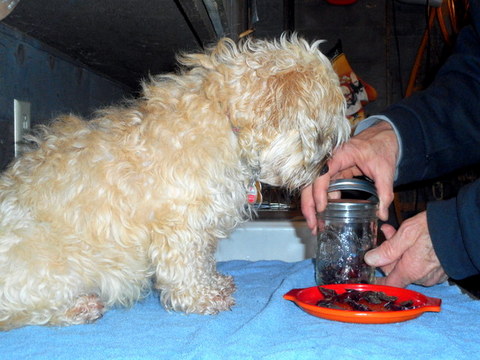 I've heard from reputable sources cooked bones are a no-no (they'll splinter). I've never cooked them.

Don't over-think this dog food menu (I tend to... I'll admit). Mother Nature's plan is simple. Have fun with it!



---



Questions? Here's a link to one of our our Website pages... fire away in the Comments Section at the bottom (or any other page). Or...

Visit our Contact Us Page and shoot us a message.

Furthermore... Our Facebook Page is a good place to post.

There's so much controversy out there it's easy to get overwhelmed and misled!

Nimble and I have been there and done it... we're always learning. Others have and unfortunately... others haven't. I keep it simple. Period.

Remember the "Prey Animal Theory" which is the theme of our website!


Nimble playing and working up a healthy dog food appetite...




, we hope you enjoyed reading our News Flash... We're sure looking forward to sharing some really juicy stuff in our next issue!

Until next time...

Wishing all of you and your furry, faithful companions the best of health!

Happy and healthy eating,

Nimble & Scott.



---